Royal Canadian Naval Reserve
In my university years at Trinity College, I joined HMCS York, a "stone frigate", or land-based naval establishment, of the Royal Canadian Naval Reserve on Lake Ontario's shoreline in the city of Toronto. I was accepted into the Reserve Officers University Training Programme (ROUTP) in 1975, only the second year when females could enter.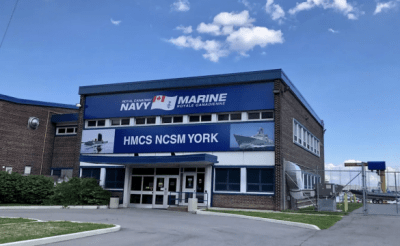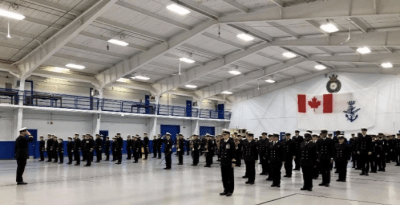 (Photo credits: nicelocal.ca and HMCS York Facebook page)
As an officer cadet, I attended the unit one night a week, acting as GMT (General Military Training) Officer in charge of new lower deck recruits. I was variously called "ma'am," "sir," "mum" and "madame" depending on their backgrounds. First year of summer training I was posted to CFB Esquimalt adjacent to Victoria on Vancouver Island, home to the Pacific Fleet of the Royal Canadian Navy. All cadets, male and female, were accommodated on HMCS Cape Breton a.k.a Building 100 or more affectionately "the Fred," a former World War 2 British navy escort maintenance ship anchored in the dockyard. (Sold and sunk in 2001 as an artificial reef for divers.)

Our training took place both on land and at sea. On land we had classes in subjects such as leadership, communications (radio, signalling, morse, semaphore), sailing, navigation, drill and maritime law. As the Canadian Forces had been unified we also did some army training including obstacle course, recce, weapons (stripping, assembling, firing), survival training in the woods and war exercises.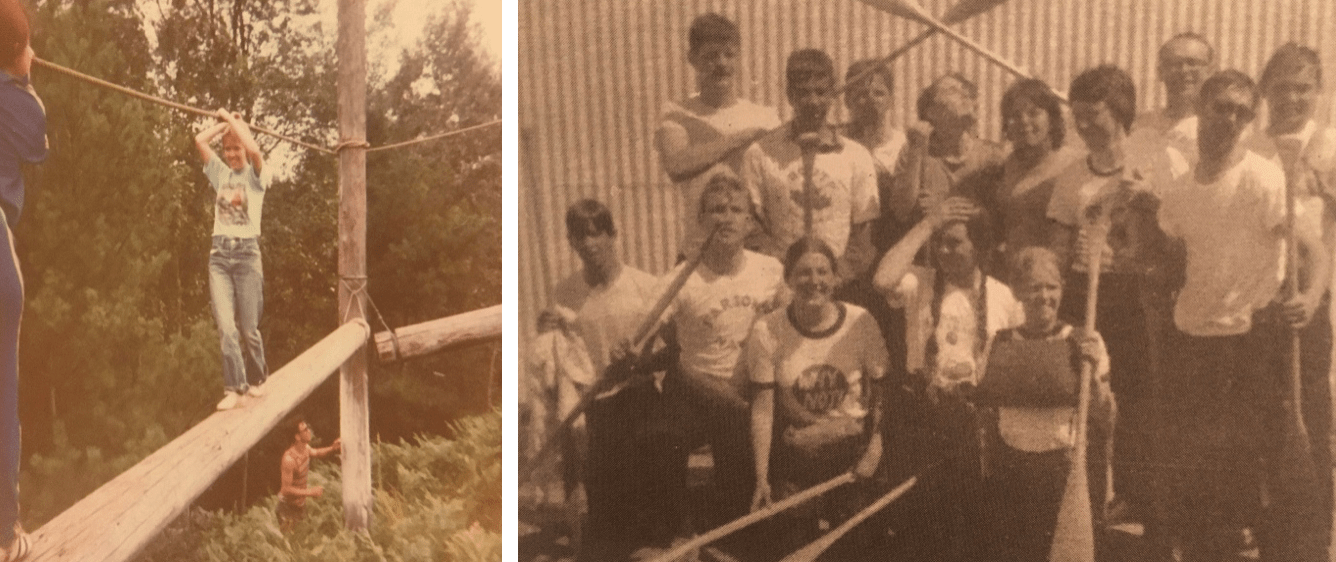 One of the highlights of that summer was sailing up the west coast of British Columbia on Canada's tall ship HMCS Oriole. As women could not sleep overboard on Canadian naval vessels at that time (now they are ship's captains!) we had to camp out every night on shore which meant big tents, bonfires, barbecues and sleeping under the stars.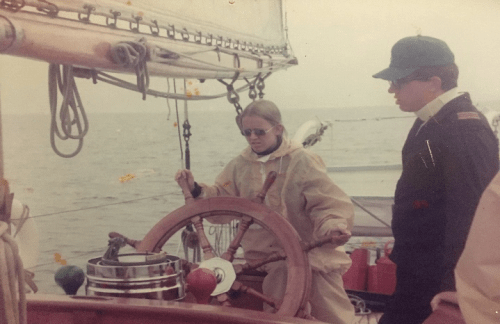 The following summer we were posted east to CFB Halifax, Nova Scotia, home to the Royal Canadian Navy Atlantic Fleet. Our training there included sailing gate vessels (anti-submarine harbour defence) and YFPs (Yard Freight Passenger vessels), more navigation (charts!), Warfare School, NBCD (Nuclear Biological and Chemical Defence), firefighting, and damage control (speedy carpentry when the ship is being flooded). A few of us also participated in boat races out the Bay of Fundy and into the Atlantic. (I was in a Grampian, a well-known Canadian sailboat in the 70s.)  We also canoed the Musquodoboit River, the women cadets only, camping overnight along the way.   

In August 1976 I received the Queen's commission as an officer in the Canadian Armed Forces at the rank of Lieutenant (Canadian Forces rank)/Sub-lieutenant (Royal Canadian Navy rank). That same summer I was assigned to be aide to Lady Dryer who was accompanying her husband, Admiral Sir Desmond Dryer, to celebrations of the 35th anniversary of the town of Ajax, Ontario. The town was named after HMS Ajax on which the Admiral served in World War 2, winning the Distinguished Service Cross for his role as Gunnery Officer during the Battle of the River Plate 1939. My fiancé was the Admiral's aide. (Photo credit: M. Dryer)